About 4Spell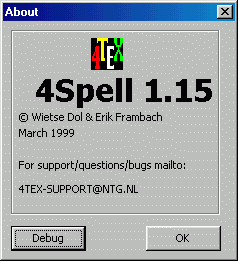 4Spell was developed after we discovered that there was no good TeX-aware freeware spell-checker available for MS-Windows. There are some freeware/shareware programs that can do spell-checking with TeX documents, e.g. the old AmSpell spell-checker under MS-DOS, or ISPELL that has been ported to DOS. None of these programs seems to be powerful enough, configurable enough and easy enough to manage, or to deliver the performance we envisioned.
So, we just started to write our own program. Note that after writing a spell-checker for TeX documents it was really easy to make the same program work with BibTeX, HTML, ASCII, or RTF documents.
The program is written in Borland Delphi 4.0 and uses the dictionary look-up routines of Aleksander Simonic. Alex is the author of WinEdt, probably the best TeX-aware shareware editor there is for OS/2 and MS-Windows. Cooperation with Alex means that we can all benefit from the same dictionaries, which makes maintenance a lot easier.
Although 4Spell is part of the 4TeX workbench, you can just as well run it stand-alone, or in an entirely different configuration.
The latest version, bug fixes, new dictionaries and more can be found at these Internet addresses:
All official distributions can als be found on CTAN, the TeX Comprehensive Archive Network. These are public ftp servers. The major sites are:
There are many local CTAN mirrors, so there may be a faster file server near you. You can find 4TeX and 4Spell in the directory systems/win32/4tex:
Dictionaries can be found in the WinEdt directory:
If you have any questions about 4Spell, please contact the The 4TeX team:
Wietse Dol
Erik Frambach
email: 4TeX-support@ntg.nl