Options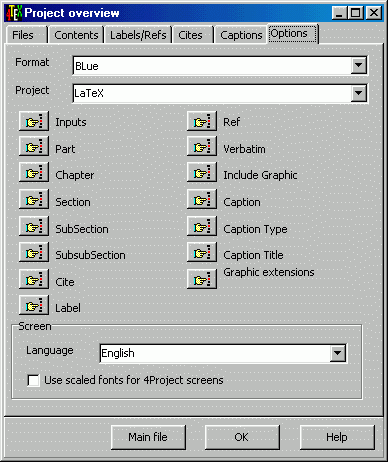 You can change any of the parameters used above to suit your personal needs. Just note that all the parameters above are lists of (La)TeX commands separated by a semicolon (";"). For instance if we changed the \chapter macro into \hoofdstuk we can easily adjust ChapterMarks to:

   ChapterMarks=\hoofdstuk;\chapter;\appendix;\nonumchapter;\bibliography;

You can use the "Options" tabsheet to configure the 4Project parameters. Note that for all the TeX formats your have (specified in the US_FRM.LST file) you can specify different parameters used/needed for the 4Project program. This can be seen in the "Options" tab. The first combobox "Format" shows you all your formats and you can choose one of them and associate it with the second combobox. The second combobox "Project" specifies sections in the 4TEX.INI file that store the parameters for the 4Project. You can either select one of the already available sections or add/type a new one. After selecting a format and INI section you can view/edit/change the associated parameters by clicking on one of the buttons indicating the 4Project parameters in the 4TEX.INI file. After clicking one of the buttons the parameter is show in a memo field and a line in the memo contains one TeX command (so you do not need to specify the semicolon). The combination of TeX format and 4TEX INI section is stored in the file US_PROJ.LST When starting 4Project the 4PAR file of the main file will be read and for the specified format the correct INI section is searched in the US_PROJ.LST file. If not specified the LATEX section will be used.
When you have edit/changed the 4Project parameter you can press the "Apply" button to save the parameter or press the "Abort" button to ignore all the changes.
Just like in 4TeX, the user-interface language of 4Project can be changed on-the-fly. From the "Language" field you can select a language. With the "Use scaled fonts for 4Project screens" checkbox you can choose whether or not you want the font that is used by 4Project is scaled every time you scale a 4Project window.